Mike Childress Desert Racing
|
home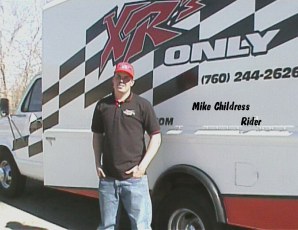 Mike Childress and XR's Box Van
My Bio
I am now 20 years old and I live in the resort town of Wrightwood, California in the San Gabriel Mountains, (population approx. 3,200). I grew up in Wrightwood, home of Mtn. High Ski Area. I spent my early years mostly as a "ski area brat" and hung out at one of our local ski areas where everyone knew me and I would ski every free minute I could, and my Mom didn't have to worry much since everyone who worked there looked out for me. I learned to ski at 5 years old. I started snow boarding several years ago and I still do it on occasion.
I have one sister, Sarah Nardini, who is 6 years older than I am. It was kind of tough having my older sister stick up for me whenever I had a problem with another kid, when most kids would have had an older brother to do that job. Sarah did an excellent job at it though and she still does. She lives in Salem, Oregon (with her husband, Michael and the two girls, Brittany and Katie), but is looking forward to moving back home to Wrightwood in the near future. Love you Sarah !
When I was 9 years old, we moved to Clyde Ranch, in the Lone Pine Canyon area of Wrightwood. Clyde Ranch is a 160 acre working apple ranch which was established in 1870. There are no utilities, except phone, in that canyon still today. We had a generator that we used very seldom and I did my homework by kerosene lamp, literally living similar to that of a pioneer. We couldn't get any TV reception there, so the alternative activities were reading, playing board games and things like that. I learned alot about apple trees during the two years we lived there and I split alot of wood since that was our only source of heat. It was a learning experience in many ways. It was okay, but I was glad to move back into the residential area.
I learned to ride motorcycles in the mountains. The elevation is 6,000 feet and I've always ridden the bigger, heavier bikes on these tight and steep trails. I began racing BMX out at Horseman's in Apple Valley, CA when I was 13. I've always been in some kind of sports, like Little League Baseball and Football. But my true passion is motorcycles. I am a member of the Checkers Off-Road Race team. I've ridden with several of the members in the club, including George Seeley. I've driven a class 1 buggy belonging to Burl Beveridge, where we took 1st in class and 1st Overall, and the class 10 car of Justin LaCore, where I received "fast lap" honors. That was before I even had a driver's license.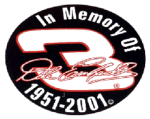 Racing is in my blood. I am third cousin to Richard Childress, the owner of the late NASCAR #3, that was driven by Dale Earnhardt until his tragic death in February of 2001. I know that Sunday's just aren't the same without that black # 3 going around the track. He will be surely missed.
I am working full time for XR's Only doing phone and catalogue sales. I also assist in research and development projects with some of my sponsors. I began riding for XR's Only last year. I've been riding the Open Pro or 4 stroke pro class in the Best in the Desert Series in Nevada, and in the 4 stroke class in District 37. I'm working on securing the F1 plate in the 2002 race season. Wish me luck!
Update
I won the 4-stroke championship and also won the #1 Rider for District 37 for the year 2002.
When I began motorcycle racing I was 15 years old. I entered a few of the District 37 races in Red Mountain and Lucerne Valley, California. I did pretty well and decided to race a whole series and I entered the Best in the Desert Series in 1999 on my XR600.
I raced the Best in the Desert series as a privateer and in 1999, I won the championship for the amateur's in the 4-stroke, 450cc and over class. I was 16 years old. Billy Robertson of Honda of North Hollywood helped me out back then as did Pam Kissick of MJK Construction. Thanks to both of them for so much help and support - I couldn't have done it without them.
In November of 2000, I rode the one time event - the BAJA 2000 in the Sportsman class. Even though we had problems with our lights and couldn't ride at night, we still finished the race. I had the help of several people, including Matt Anderson, Malcolm Bryce, Kevin Gorzny and Scott Berch, and our pit captain and my step-dad, Reverend Roy Moore of the Checker's Off-Road race team.
Roy was my pit support chief all during the 1999 race season, the 2000 season and has done a few in the 2001 race season. He is very knowledgable in the area of off-road race pit support and has always helped me finish, even when I was sure we were out of the race. My Mom calls him "McGyver". I can never thank him enough.
Since I'm thanking those who've helped me get to where I am now, I would like to thank Ed and Anna Groce of Phelan, California who have always been right there to help pit or whatever I needed. I would like to thank my sister, Sarah Nardini, of Salem, Oregon who has been coming to my last few races to help out and her husband, Michael who was able to make the Vegas to Reno race. And, to my mom, Lori Tracy who has always supported me and at one time was my only pit support person when no one else could make it. She also created this website for me. If you'd like a website too, visit her website from the links page of this site. Many thanks go out to Freddie Ramos of XR's Only.
In addition, I'd like to thank Bruce Ogilvie and the pit crew members of Honda of America for the help they have extended to me in the past year. Thank you Bruce for the guidance you've given me and for the direction you've given me when I didn't know which way to go.
Update
For the future, I have signed a contract to race with Kawasaki's Team Green and am looking forward to successes there. If you'd like to know more about how this goes, click on the link below.
Hope to see you at the races. ~Mike